Van 2 tot 5 juni 2021 vindt het 24e Internationaal Economisch Forum in Sint-Petersburg plaats.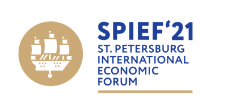 SPIEF is een uniek evenement in de wereld van het bedrijfsleven en de economie. SPIEF wordt sinds 1997 gehouden, en sinds 2006 onder auspiciën van de president van de Russische Federatie, die ook bij elk evenement aanwezig is.
In de afgelopen 24 jaar is het forum uitgegroeid tot een toonaangevend mondiaal platform waar het bedrijfsleven, politiek en vele andere organisaties, waaronder sociale en culturele, bij elkaar komen om te discussiëren over de belangrijkste economische vraagstukken waarmee Rusland, opkomende markten en de wereld als geheel worden geconfronteerd.
Net als in voorgaande jaren zal het zakelijke programma gericht zijn op de wereldeconomie en de Russische economie, sociale kwesties en technologische ontwikkeling.
Het zeer uitgebreide programma met links naar live uitzendingen is hier te bekijken of hieronder te downloaden, 107 pagina's.
Een paar willekeurige onderwerpen uit de lijst van vele tientallen sessies:
The Role of Young Scientific Communities in Implementing Russia's Scientific and Technological Development Strategy
Transforming the Food Industry in a Post-COVID World
EAEU–ASEAN
Low-carbon Development and Climate Policy: Opportunities for Russian Businesses on the Global Decarbonization Agenda
International Business and Global Values: Risks and Opportunities for Creative Industries in the Next Stage of Development
Economic Policy 2.0: Ensuring Growth in Every Household
Innovations and Investment Driving Broad Regional Development
Risks Sanctions Pose to the Global Financial System and International Business:
The last two decades have seen a significant increase in the number of restrictive measures imposed on countries, economic sectors and corporations. The risk of sanctions has long since extended beyond 'marginal' and 'shadow' sectors of the economy, and today affects major multinational companies around the world, with banks and the financial sector at the most serious risk. Sanctions present a threat to both the financial infrastructure of the 'target country' and foreign banks. In recent years, major banks such as UniСredit, Standard Chartered and JPMorgan Chase have had to pay fines for violating sanctions regimes. Restrictions imposed in order to serve political ends may interfere with the normal functioning of the global financial system. The transformation of the dollar into a weapon carries the threat of unforeseen shocks. Restrictions on the financial sector are also associated with human rights issues, particularly a lack of access to financial services (underbanking) for large groups of citizens. The risk of sanctions is also growing in other sectors of the economy. China has been subject to landmark sanctions on a host of telecommunications and manufacturing companies. In India, attention is focused on US bans on the purchase of Iranian oil and deals outlining military-industrial cooperation with Russia. The European Union is looking seriously at the threat of extraterritorial sanctions by third countries. There is significant interest in discussing the issue among US-based companies, which are facing the risk of fines from their own government. The intensity and indiscriminate nature with which sanctions are deployed suggests that a targeted political tool is now becoming all-encompassing. In the context of eroding international norms, they also serve as a kind of regulator of relations between countries. The COVID-19 pandemic has had almost no effect on the intensity of sanctions. Restrictions are now being applied even more heavily in a number of areas. How are geopolitical issues related to the use of sanctions? What will be the consequence of transforming the dollar into a weapon and a site of politicalleverage? Why is the financial sector most vulnerable to sanctions? Should we expect a new escalation in sanctions against Russia? How can the risk of sanctions be managed at the level of business, the state and international organizations?
Moderator:
• Ivan Timofeev, Programme Director of the Valdai Discussion Club; Director of Programmes of the Russian International Affairs Council (RIAC); Associate Professor at MGIMO UniversityPanellists:
• Vladimir Chizhov, Ambassador Extraordinary and Plenipotentiary, Permanent Representative of the Russian Federation to the EU
• Alena Douhan, UN Special Rapporteur on the Negative Impact of Unilateral Coercive Measures on the Enjoyment of Human Rights(online)
• Arnaud Dubien, Director of the Observo, Analytical Centre of the Franco-Russian Chamber of Commerce
• Tony Ewing, Managing Director, Conquer Risk Capital; Advisory Board Member, RC Investments(online)
• Vladimir Kolychev, Deputy Finance Minister of the Russian Federation